HOME MOVIE DAY 2022
Saturday, October 15th is the "official" HMD date this year, but like last year we welcome events throughout October and beyond – any day can be Home Movie Day! We're continuing to encourage virtual events in 2022, while also welcoming in-person or hybrid gatherings when and where they are safe. We partnered with the Bay Area Video Coalition to produce a how-to guide for hosting virtual events – check it out below!
If you're ready, you can SUBMIT YOUR HOME MOVIE DAY EVENT HERE! Please note that it takes up to 48 hours for your event to appear below once it's submitted, so please check back. And for more info:
You can browse events from the list below (use the square icon to customize your view) and click for details and links to film screenings, workshops, and interactive community events happening throughout the year. Many events are online, so you can drop in on a Home Movie Day anywhere in the world.
If you'd like to find out how to view and share your own home movies, get in touch with your local HMD event host and explore some of the resources on this site.
If you are interested in hosting a Home Movie Day event and need more info, get started by reading our How-to Home Movie Day 2022. All of the great HMD resources from years past are still available in the About Home Movie Day section. And if you need more help or aren't sure where to start, write to us at info@centerforhomemovies.org. We're here to support you and help you share your home movies!

Virtual Event
Home Movie Day Bogotá 2021: Memorias cinematográficas del siglo XX
October 20, 2021 @ 5:00 pm

-

7:00 pm

UTC-5

Virtual Event

Free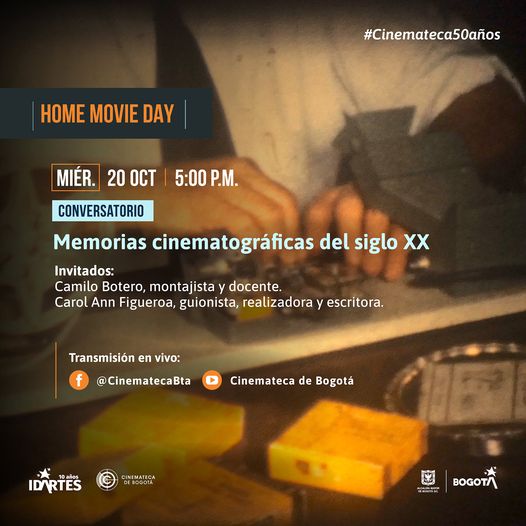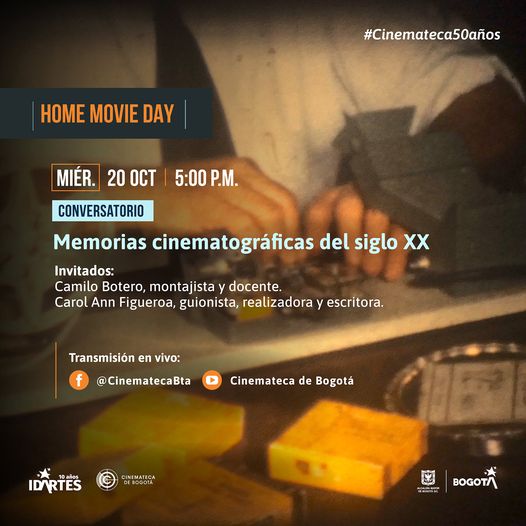 Presentation of the film 16memorias and conversation about the audiovisual memories of the 20th century
[English]
Conversation between Camilo Botero and Carol Ann Figueroa that reflects on the audiovisual memory of the 20th century and how family archives make up the collective memory of contemporary societies and cultures.
They will also share their experience with the home movies of the Posada Saldarriaga (33 hrs), Pedraza (12 hrs), Ochoa (32 hrs) and Zapata (4 hrs) families.
This activity is framed in the celebration of Home Movie Day, whose motto this year is !Every day is Home Movie Day! This worldwide celebration is promoted by the Centre for Home Movies (U.S.A). Home Movie Day is a coordinated group of activities organised by local hosts around the world.
This virtual conversation is articulated with the presentation of the film 16memorias (Dir. Camilo Botero. 2008) that will be available to Colombia through the Sala Vitual of the Cinemateca de Bogotá from the 16th to the 31st of October.
https://cinematecadebogota.gov.co/pelicula/home-movie-day-16memorias
[Español]
Conversatorio entre Camilo Botero y Carol Ann Figueroa que reflexiona sobre la memoria audiovisual del siglo XX y como los archivos familiares componen la memoria colectiva de las sociedades y culturas contemporáneas. Además compartirán su experiencia con las memorias en cine de las familias Posada Saldarriaga (33 hrs), Pedraza (12 hrs), Ochoa (32 hrs) y Zapata (4 hrs).
Actividad enmarcada en la celebración del Día del Cine Casero, cuyo lema este año es ¡Cualquier día puede ser el Día del cine casero! ¡Every day is Home Movie Day! Esta celebración mundial es impulsada por el Centre for Home Movies (U.S.A). El Home Movie Day es un grupo coordinado de actividades organizadas por anfitriones locales de todo el mundo.
Esta conversación virtual se articula con la muestra de la obra audiovisual 16memorias (Dir. Camilo Botero. 2008) que estará disponible para Colombia a través de la Sala Virtual de la Cinemateca de Bogotá del 16 al 31 de octubre.
https://cinematecadebogota.gov.co/pelicula/home-movie-day-16memorias