HOME MOVIE DAY 2022
Saturday, October 15th is the "official" HMD date this year, but like last year we welcome events throughout October and beyond – any day can be Home Movie Day! We're continuing to encourage virtual events in 2022, while also welcoming in-person or hybrid gatherings when and where they are safe. We partnered with the Bay Area Video Coalition to produce a how-to guide for hosting virtual events – check it out below!
If you're ready, you can SUBMIT YOUR HOME MOVIE DAY EVENT HERE! Please note that it takes up to 48 hours for your event to appear below once it's submitted, so please check back. And for more info:
You can browse events from the list below (use the square icon to customize your view) and click for details and links to film screenings, workshops, and interactive community events happening throughout the year. Many events are online, so you can drop in on a Home Movie Day anywhere in the world.
If you'd like to find out how to view and share your own home movies, get in touch with your local HMD event host and explore some of the resources on this site.
If you are interested in hosting a Home Movie Day event and need more info, get started by reading our How-to Home Movie Day 2022. All of the great HMD resources from years past are still available in the About Home Movie Day section. And if you need more help or aren't sure where to start, write to us at info@centerforhomemovies.org. We're here to support you and help you share your home movies!

HOME MOVIE DAY 2021 at Filmmuseum Potsdam: WHAT YOU SEE IS WHAT YOU GET?
October 16, 2021 @ 8:00 am

-

10:00 pm

CEST

Free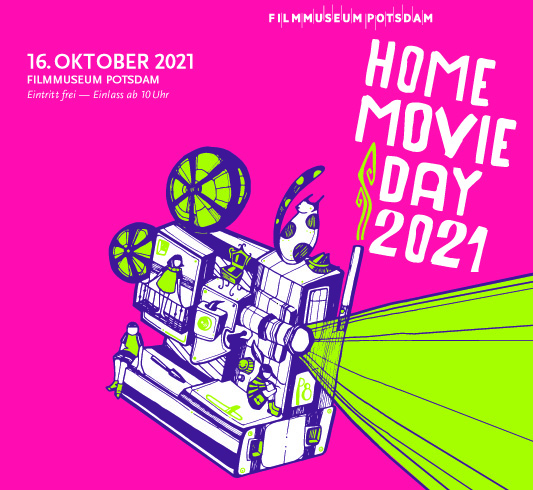 Smartphones have largely replaced film cameras and camcorders as tools for amateur filmmakers. What you see is what you get is taken for granted today. In the past, it was a case of anxious waiting until the last second of film development. Were all the parameters on the camera set correctly? Sometimes exposed material was carelessly left lying around to be developed years later and then inserted into a projector.
Anticipation of the unknown – this is also what drives a cine film scene that is still alive today. In this spirit, we cordially invite you to bring your home-made films to the Home Movie Day at the Filmmuseum Potsdam. Trained experts will view and check your films with you on site (8mm, 9.5mm and 16mm). Specialists from the company Screenshot will show you how analogue films can be digitised and even offer a free sample. If you dare, you can present selected films you have brought with you on the big screen in front of a cinema audience at the end. We are also looking forward to current films. In addition, a varied accompanying programme invites you to immerse yourself in the world of narrow and amateur film.
With presentations from the festival Dresdner Schmalfilmtage, the archive of family- and amateur film at university of Paderborn and a new book about the Ozaphan home cinema.