HOME MOVIE DAY 2022
Saturday, October 15th is the "official" HMD date this year, but like last year we welcome events throughout October and beyond – any day can be Home Movie Day! We're continuing to encourage virtual events in 2022, while also welcoming in-person or hybrid gatherings when and where they are safe. We partnered with the Bay Area Video Coalition to produce a how-to guide for hosting virtual events – check it out below!
If you're ready, you can SUBMIT YOUR HOME MOVIE DAY EVENT HERE! Please note that it takes up to 48 hours for your event to appear below once it's submitted, so please check back. And for more info:
You can browse events from the list below (use the square icon to customize your view) and click for details and links to film screenings, workshops, and interactive community events happening throughout the year. Many events are online, so you can drop in on a Home Movie Day anywhere in the world.
If you'd like to find out how to view and share your own home movies, get in touch with your local HMD event host and explore some of the resources on this site.
If you are interested in hosting a Home Movie Day event and need more info, get started by reading our How-to Home Movie Day 2022. All of the great HMD resources from years past are still available in the About Home Movie Day section. And if you need more help or aren't sure where to start, write to us at info@centerforhomemovies.org. We're here to support you and help you share your home movies!

Home Movie Day Nevada City 2022
November 13, 2022 @ 12:00 pm

-

7:00 pm

PST

Free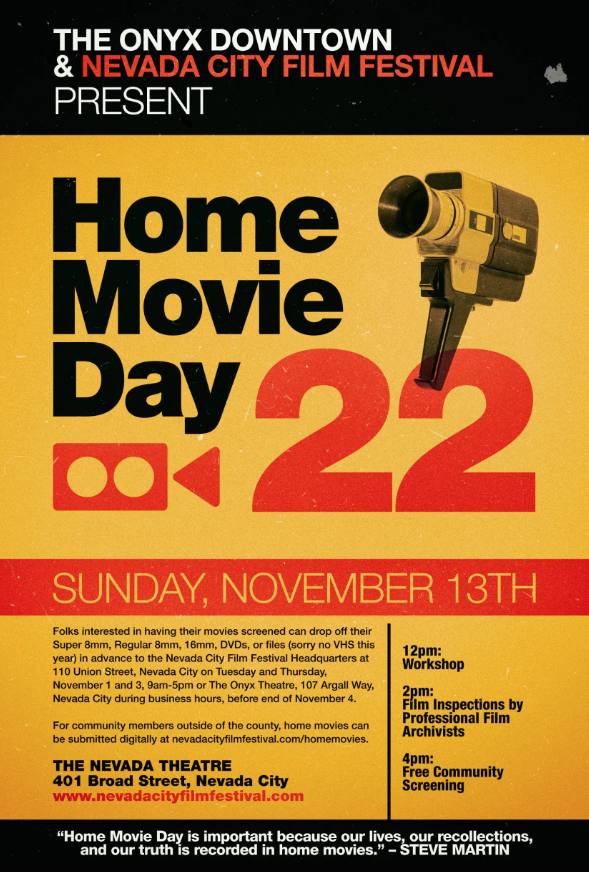 Home Movie Day is an opportunity to share your home movie memories, and learn how to digitize and preserve them for generations to come. We welcome and treasure your stories!
In celebration of Home Movie Day, The Onyx Downtown at the Nevada Theatre, the Nevada City Film Festival, and a group of professional film archivists will host a free local community event on Sunday, November 13 at the historic Nevada Theatre. Activities begin at 10am with a workshop on the preservation and care of classic film formats including 8mm and 16mm, followed by a screening of films submitted by the community at 4pm.
Show your reel self! Folks interested in having their movies screened can drop off their Super 8mm, Regular 8mm, 16mm, DVDs, or files (sorry no VHS this year) in advance to the Nevada City Film Festival Headquarters at 110 Union Street, Nevada City on Tuesday and Thursday, November 1 and 3, 9am-5pm or The Onyx Theatre, 107 Argall Way, Nevada City during business hours, before end of November 4. For community members outside of the county, home movies can be submitted digitally here (https://docs.google.com/forms/d/e/1FAIpQLScVmIcjG4ktUcC9MheijASeMqe2KCWpL_MK9WPszstOjtSqkQ/viewform).
If you miss the early drop off window, feel free to bring your films by the Nevada Theatre for Home Movie Day from 12-4pm.