Home Movie Day 2021 Planning is Underway!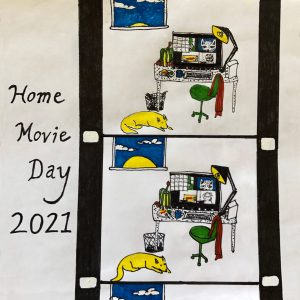 The "official" Home Movie Day date for 2021 is Saturday, October 16th, but like last year we welcome events throughout October and beyond – any day can be Home Movie Day! With the continuing global COVID-19 pandemic, we expect many virtual events again this year, but also look forward to the return of some in-person or hybrid gatherings when and where they are safe.
We witnessed an incredible amount of innovation and dedication from Home Movie Day hosts around the world last year and the Center for Home Movies encourages both new and returning hosts to look to these examples for inspiration in planning your 2021 events. HMD events were held in over 40 locations in 2020, from Tokyo to Bogotá to Bucksport, Maine and Los Angeles, California. A successful outdoor, socially distanced in-person Home Movie Day took place in Providence, Rhode Island, and a wide array of virtual programs were held, including small gatherings over zoom with live commentary heard over the films – for the closest approximation of the communal feeling of an in-person event – to curated and pre-recorded programs that were made available on Vimeo and Youtube for the entire month of October. Events in Los Angeles and San Francisco successfully merged the best of both in-person and virtual events by offering pre-curated home movie finds on twitch and youtube and engaging the virtual audience with commentary, questions, and even bingo over the accompanying chat feature of each platform.
We expect to see equal amounts of innovation and creativity this time around from our group of dedicated volunteer hosts. The Elmont Memorial Library in New York, embracing the motto that every day is home movie day has a virtual event planned on September 14th, "National Film Registry Home Movies & Independent Films", as part of a series on the National Film Registry that will feature commentary from current CHM board member CK Ming.
For any hosts looking for advice on how to get started, we encourage you to check out the "How-to Home Movie Day" resources on the CHM website and to sign up for the Home Movie Day google group! For in-person events, all of the great resources from years past are still available in the About Home Movie Day and Host Home Movie Day sections. Please sign up for the google group for details on Home Movie day office hours, or email info@centerforhomemovies.org if you have any questions. Happy planning!