HOME MOVIE DAY 2022
Saturday, October 15th is the "official" HMD date this year, but like last year we welcome events throughout October and beyond – any day can be Home Movie Day! We're continuing to encourage virtual events in 2022, while also welcoming in-person or hybrid gatherings when and where they are safe. We partnered with the Bay Area Video Coalition to produce a how-to guide for hosting virtual events – check it out below!
If you're ready, you can SUBMIT YOUR HOME MOVIE DAY EVENT HERE! Please note that it takes up to 48 hours for your event to appear below once it's submitted, so please check back. And for more info:
You can browse events from the list below (use the square icon to customize your view) and click for details and links to film screenings, workshops, and interactive community events happening throughout the year. Many events are online, so you can drop in on a Home Movie Day anywhere in the world.
If you'd like to find out how to view and share your own home movies, get in touch with your local HMD event host and explore some of the resources on this site.
If you are interested in hosting a Home Movie Day event and need more info, get started by reading our How-to Home Movie Day 2022. All of the great HMD resources from years past are still available in the About Home Movie Day section. And if you need more help or aren't sure where to start, write to us at info@centerforhomemovies.org. We're here to support you and help you share your home movies!

Virtual Moving History: Home Movie Day (Part 2) About Town & Celebrations
October 25, 2020 @ 4:30 pm

-

5:30 pm

PDT

by donation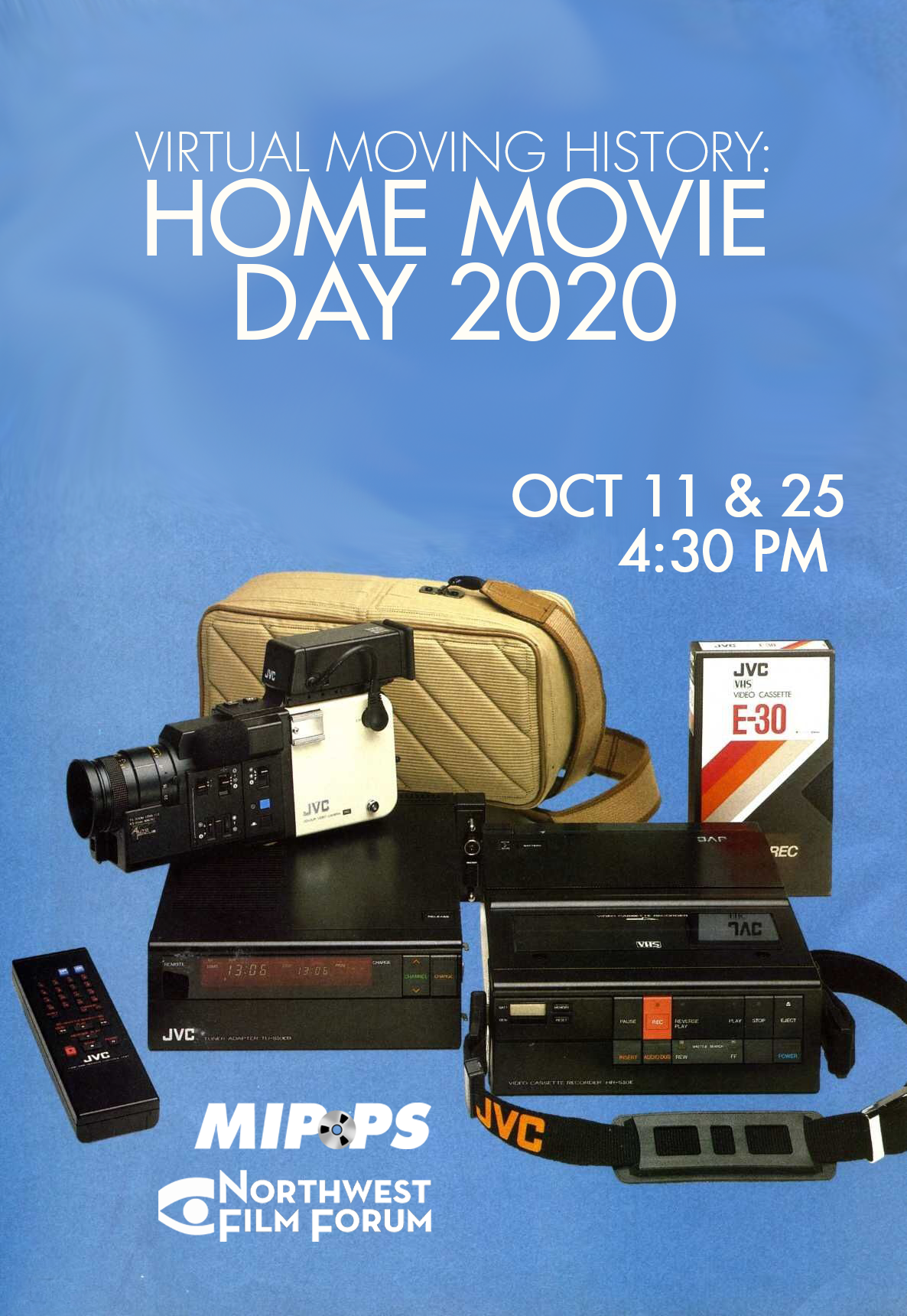 October is Home Movie Month and National Archives Month! To celebrate, MIPoPS is dedicating Virtual Moving History screenings in October to presenting local home movies from local archives and staff family collections. New ways of connecting — that is the overarching theme for Home Movie Day 2020, bringing people together in virtual space to celebrate amateur films and filmmaking.
Home Movie Day is a celebration of amateur films and filmmaking held locally and across the globe. On Home Movie Day, we recognize the value of each person's ability to tell their own stories. We celebrate the democratization of filmmaking and of recording our personal histories. We laugh at seeing ourselves in the bathtub as a baby and we cry hearing the voices of loved ones who have passed. We excitedly shout, "I remember that!" as our stories come to life again on the screen. Home Movie Day is an opportunity to watch, talk about, and take care of home movies!
** Introduction by Benjamin Schultz-Figueroa (Assistant Professor of Film Studies at Seattle University) **
Curated home movie footage includes:
Gorilla Gone Wild, How Not to Behave in the Library (1984)
– Original format: 16mm (color with sound)
– – University of Washington Libraries, Special Collections
The film uses an interaction between a librarian and a gorilla to demonstrate unacceptable behavior in UW's Odegaard Library. The gorilla breaks a host of library rules, misusing the copy machine and printed materials.
Seattle Engineering Work/Home Movies (1932)
– Original format: 16mm film (black and white, silent); transferred from Digital Betacam
– – Seattle Municipal Archives (Item 525, Record Series 2613-09)
Seattle Engineering Dept. employees' families and guests enjoy a holiday dinner and parade.
Florestine Ware Papers (1960–82)
– Original format: Super 8mm (color); transferred from DVCAM
– – University of Washington Libraries, Special Collections
These reels of Super 8mm shot by Seattle-area activist Florestine Ware relate to her work as a caravan leader and spokesperson for the North West Convention to the Poor People's Campaign, 1967. This footage also includes Ware's family on a camping trip and at a wedding.
Home Movie Footage of David McGee (circa 1940)
– Original Format: 16mm
– – Seattle Art Museum Historic Media Collection – Dorothy Stimson Bullitt Library, Seattle Art Museum
David McGee and his family on various outings in downtown Seattle and the Seattle Asian Art Museum in Volunteer Park.
Edward and Jeanette Otsuka Film Collection (1952–57)
– Original format: 16mm (color, silent)
– – University of Washington Libraries, Special Collections
The Otsuka family play in the snow, dance with cherry blossoms, hunts deer, perform in a play, attend the Seafair Parade, and take family portraits together. The outfits are all incredible, and frankly it is hard to overstate the beauty and color of this footage! It's an irresistible time capsule of '50s Seattle.
Edwin C. Thompson's Seattle's World's Fair Home Movie (July 1962)
– Original format: 8mm (color, silent)
– – University of Washington Libraries, Special Collections
An 8mm record of Ed and Edith Thompson's experience attending the Century 21 Exposition at Seattle Center. Monorail rides, Space Needle views, water-skiing, amusement park and cable car rides – the works! The film ends with nighttime scenes with prominent neon signs and views from the cable car ride of the fairgrounds at night.
Tanejiro Kushi Family Films (1925–39)
– Original format: 8mm (black and white, silent)
– – University of Washington Libraries, Special Collections
The Kushi family filmed marriages, graduations, festivals, and family trips both in the US and in Japan. Includes footage of the Mukai Cold Process Fruit Barreling Plant on Vashon Island and views of the Seattle waterfront.
+ A brief showcase of MIPoPS staff home movies!