HOME MOVIE DAY
New ways of connecting was the overarching theme for Home Movie Day 2020, bringing people together in virtual space to celebrate amateur films and filmmaking. We're continuing to host online events in 2021, while also looking forward to the return of in-person gatherings. You can browse events from the map or list below (use the map-pin icon to customize your view) and click for details and links to film screenings, workshops, and interactive community events happening throughout the year. Most events are online, so you can drop in on a Home Movie Day anywhere in the world. If you'd like to find out how to view and share your own home movies, get in touch with your local HMD event host and explore some of the resources on this site.
If you are interested in hosting a Home Movie Day event, welcome! Get started by reading our How-to Home Movie Day 2020, where you'll find instructions and a link for submitting your event. All of the great HMD resources from years past are still available in the About Home Movie Day section. And if you need more help or aren't sure where to start, write to us at info@centerforhomemovies.org. We're here to support you and help you share your home movies!

Virtual Event
Home Movie Day Vitoria-Gasteiz 2020
October 18, 2020 @ 2:00 pm

-

3:00 pm

EDT

Virtual Event

3,99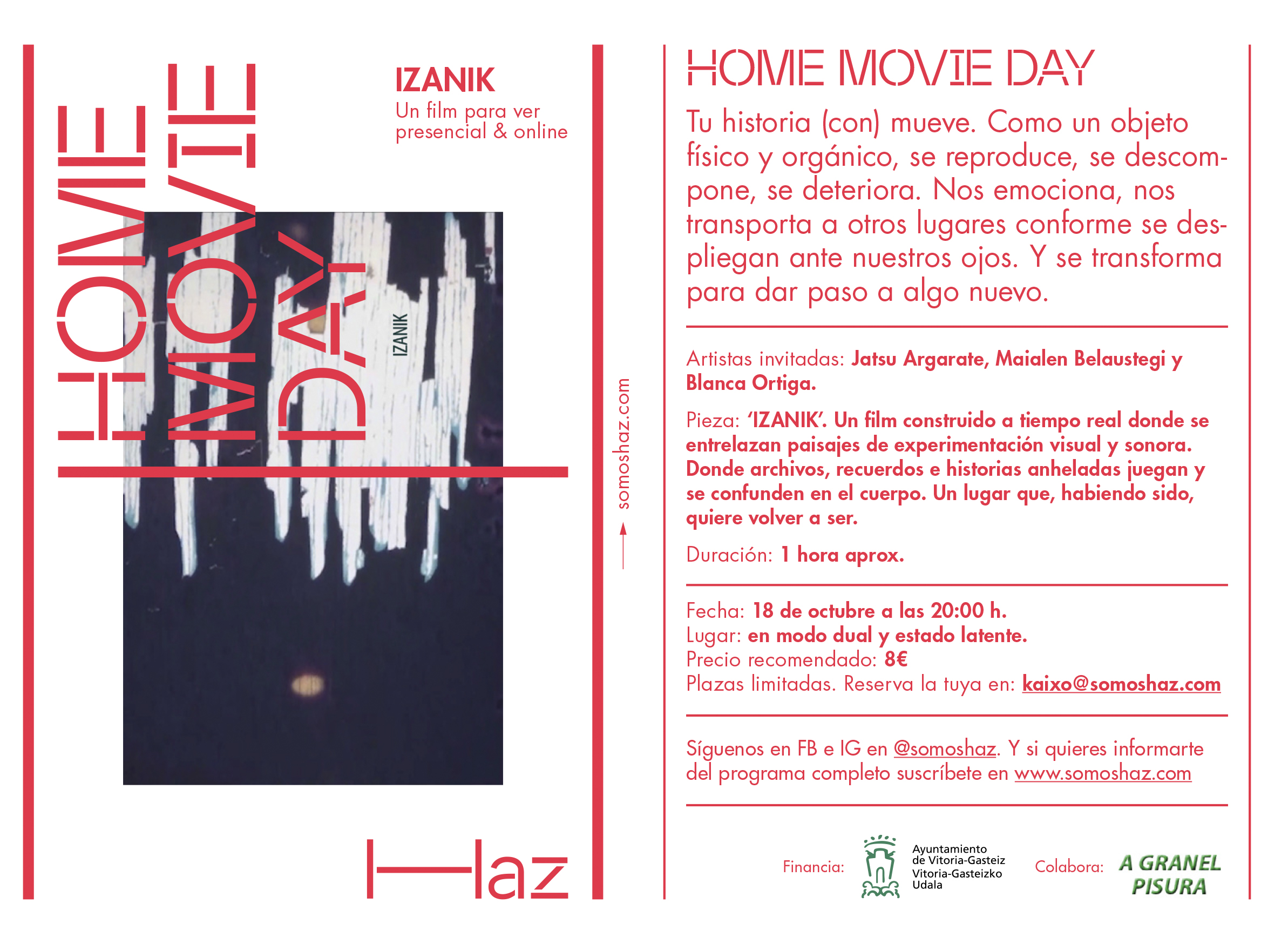 Durante el mes de octubre se celebra el Día Mundial del Patrimonio audiovisual y por todo el mundo se festeja el cine doméstico con diferentes acciones.
Nosotras nos unimos a ellas celebrando un día en el que se fomente el diálogo y la reutilización de este material como el eje principal: el Home Movie Day.
En él cobran vida las historias recuperadas en las películas domésticas, a través del poder de la imagen en movimiento y de las grabaciones de sonido que nos conectan personalmente con aquellos eventos y con aquellos momentos en el tiempo que han moldeado nuestra memoria y quiénes somos.
Cada año invitamos a creadoras interdisciplinares a que integren en su trabajo, o usen como inspiración para todo tipo de propuestas artísticas, las memorias recogidas en las diferentes acciones de
#almargendeldeterioro
Artistas invitadas: Blanca Ortiga, Jatsu Argarate y @maialen belaustegi
Colabora:
Fosforo Kultur Elkartea
,
ENELU Kultur Elkartea
,
Agranel-pisura
,
Ojo Libre
,
Nahidudana
FInancia:
Ayuntamiento de Vitoria-Gasteizko Udala