HOME MOVIE DAY 2022
Saturday, October 15th is the "official" HMD date this year, but like last year we welcome events throughout October and beyond – any day can be Home Movie Day! We're continuing to encourage virtual events in 2022, while also welcoming in-person or hybrid gatherings when and where they are safe. We partnered with the Bay Area Video Coalition to produce a how-to guide for hosting virtual events – check it out below!
If you're ready, you can SUBMIT YOUR HOME MOVIE DAY EVENT HERE! Please note that it takes up to 48 hours for your event to appear below once it's submitted, so please check back. And for more info:
You can browse events from the list below (use the square icon to customize your view) and click for details and links to film screenings, workshops, and interactive community events happening throughout the year. Many events are online, so you can drop in on a Home Movie Day anywhere in the world.
If you'd like to find out how to view and share your own home movies, get in touch with your local HMD event host and explore some of the resources on this site.
If you are interested in hosting a Home Movie Day event and need more info, get started by reading our How-to Home Movie Day 2022. All of the great HMD resources from years past are still available in the About Home Movie Day section. And if you need more help or aren't sure where to start, write to us at info@centerforhomemovies.org. We're here to support you and help you share your home movies!

Bogotá – Home Movie Day | Revelando tus memorias en movimiento
October 14 @ 10:00 am

-

October 16 @ 5:00 pm

BMT

Free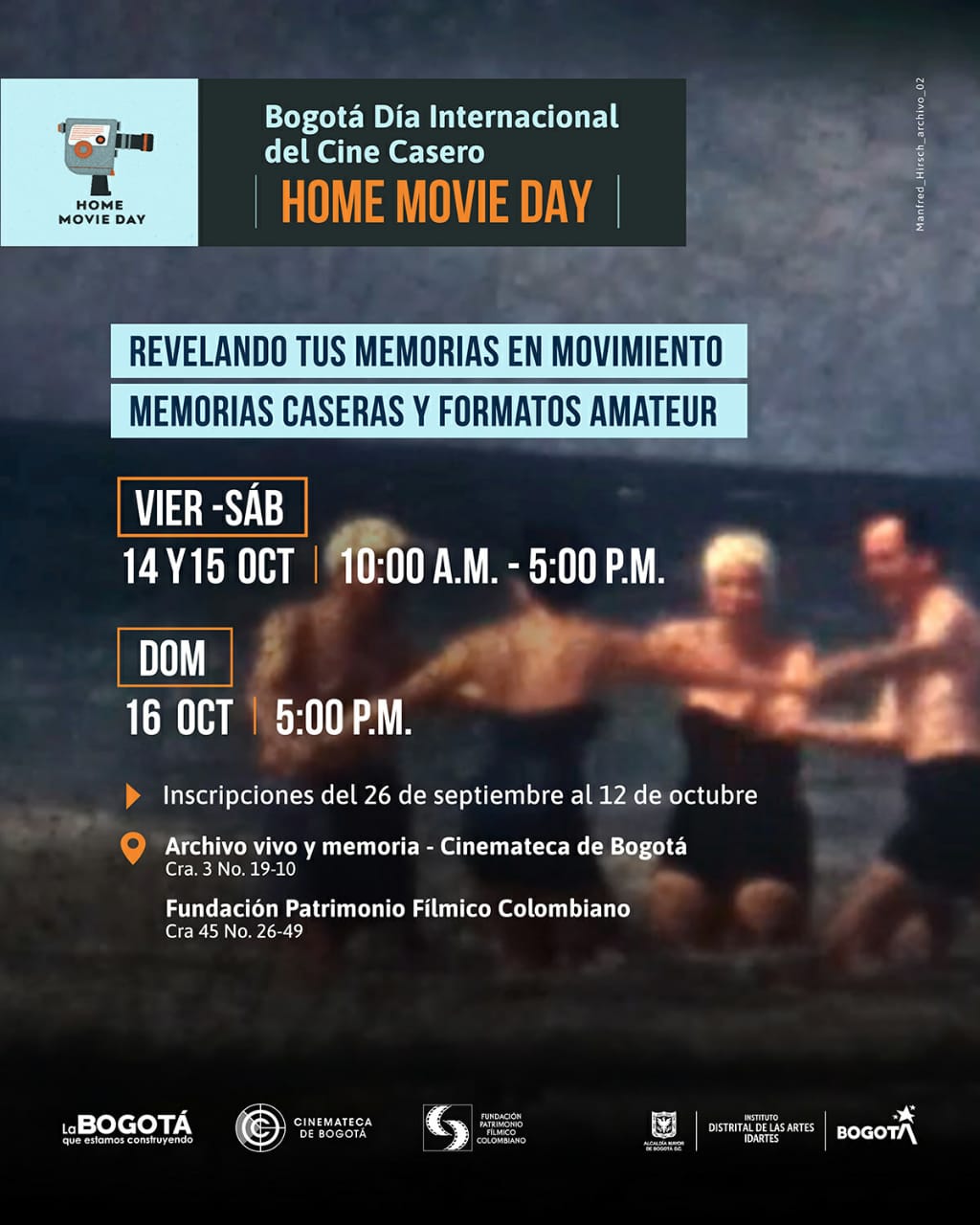 Since 2020 the Cinemateca de Bogotá has been carrying out activities framed in this celebration, and this 2022 we want to extend a special invitation to citizens in general who have in their personal archives, family or amateur memories in audiovisual format (especially 8mm, super8, 16mm, Betamax and VHS), which account for family memories, historical scenes, travels, home or amateur creations, among other records that are owned by them or belong to their family. Through workshops at the Fundación Patrimonio Fílmico Colombiano and the Cinemateca de Bogotá, we will carry out a workflow for inventory, identification, preparation, digitization (depending on the physical conditions) on October 14th and 15th and subsequent presentation at one of the Cinemateca's cinemas on October 16th, with the aim of celebrating home movies with memories in motion.
This activity culminates with an exhibition of family films and audiovisual creations made in homemade or amateur formats, some as a result of the workshops and others selected by the Cinemateca de Bogotá and the Fundación Patrimonio Fílmico Colombiano to commemorate the Home Movie Day.
(Spanish version)
La Cinemateca de Bogotá, Gerencia de Artes Audiovisuales del Idartes y la Fundación Patrimonio Fílmico Colombiano se unen a la celebración mundial del "Home Movie Day" – Día del Cine Casero, cuyo lema este año es ¡Cualquier día puede ser el Día del Cine Casero! ¡Any day can be Home Movie Day! el cual es impulsado por el Centre for Home Movies (U.S.A) el cual cuenta con actividades organizadas por anfitriones en todo el mundo.
Desde el año 2020 la Cinemateca de Bogotá, ha venido realizando actividades enmarcadas en esta celebración, y este 2022 queremos extender una invitación especial a la ciudadanía en general que tenga en sus archivos memorias familiares o amateur en formato audiovisual (especialmente 8mm, super8, 16mm, Betamax y VHS), que den cuenta de memorias familiares, escenas históricas, viajes, creaciones caseras o amateur, entre otros registros que sean de su titularidad o pertenecientes a su familia. Por medio de jornadas en la Fundación Patrimonio Fílmico Colombiano y la Cinemateca de Bogotá, realizaremos un flujo de trabajo para el inventario, revisión, alistamiento, digitalización (según las condiciones físicas) los días 14 y 15 de Octubre y posterior proyección en una de las salas de la Cinemateca el día 16 de Octubre, con el propósito de celebrar con memorias en movimiento el cine casero.
Esta actividad culmina con una muestra de películas familiares y de creaciones audiovisuales realizadas en formatos caseros o amateur, algunas como resultado de las jornadas de trabajo y otras seleccionadas por la Cinemateca de Bogotá y la Fundación Patrimonio Fílmico Colombiano para conmemorar el Cine Casero.