<![if !supportEmptyParas]> The Center for Home Movies is a 501(c)(3) organization established to provide permanent, non-profit institutional oversight for Home Movie Day and to pursue new projects relating to amateur film preservation.

Skip Elsheimer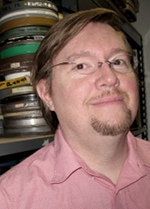 Skip Elsheimer is the founder and curator of the A/V Geeks Educational Film Archive in Raleigh, NC. He has a BA from the College of Design at NC State University. In the early 1990s, he began collecting 16mm educational films and now has over 23,000 films in the archive. He also acquired film telecine equipment and has been transferring film and video materials from his collection and for clients such as the Internet Archive, Duke University, NC State Archives and Stanford University. He is an avid supporter of Home Movie Day, sponsoring the event in North Carolina since its beginning in 2003 and creating Home Movie Day Bingo - a fun way to engage audience members with participants.
Chad Hunter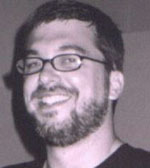 Chad Hunter is Board President of the Center for Home Movies, a freelance archivist and a recent graduate of Carnegie Mellon University's Master of Arts Management Program. He previously served as archivist for WITNESS, Peter Gabriel's human rights organization in NYC, and as archivist for Appalshop, the acclaimed arts organization in eastern Kentucky. His work at Appalshop included the preservation of the National Film Registry-named documentary The Buffalo Creek Flood: An Act of Man and audio recordings of traditional Appalachian master musicians such as Buell Kazee and I.D. Stamper. At George Eastman House in Rochester, NY, where he spent seven years as an archivist and Preservation Officer, Chad supervised the preservation of more than one hundred films, including the home movies of Martin Scorsese and Joan Crawford; the films of Peter Hutton; unique films of Harold Lloyd, Buster Keaton and Raoul Walsh; and dozens of actuality and animation films from the silent period. He was an instructor and lecturer at the L. Jeffrey Selznick School of Film Preservation in Rochester, a guest lecturer at the Cinemateca Brasileira in São Paulo, Brazil, and a visiting archivist at the Danish Film Institute in Copenhagen, Denmark. Chad is actively involved with the Association of Moving Image Archivists, and is former co-chair of the Association's Small Gauge and Amateur Film Interest Group.
Albert Steg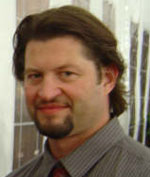 Albert Steg is a freelance archivist and film collector living in Cambridge, MA. He hold Masters degrees in Philosophy (Edinburgh University) and English (Boston University). In 2004 he left his position as head of the English Department at the Winsor School in Boston to pursue a career in moving image archiving. After completing the Selznick School program at George Eastman House in 2005, he reorganized the film collection of the Baseball Hall of Fame. A co-chair of the AMIA Small Gauge and Amateur Film Interest Group, his primary film interests are in small-gauge and ephemeral materials, reflected in his work on the Kodascope Collection at GEH and on his own collection of itinerant, educational, and erotic / stag films, as well as home movies. An avid Filemaker Pro designer, he maintains the database of screenings for the Giornate del Cinema Muto at Pordenone and provides custom database solutions for collections management.
Dwight Swanson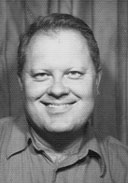 Dwight Swanson resides in Baltimore and maintains the home office of the Center for Home Movies. He has a B.A. in history from the University of Colorado and an M.A. in American Studies with an emphasis on popular and material culture from the University of Maryland. His initial training was in photographic history and museum studies. Since graduating from the L. Jeffrey Selznick School of Film Preservation at the George Eastman House he has served as the archivist for regional film and video collections at the Alaska Moving Image Preservation Association, Northeast Historic Film and Appalshop, as well as working on projects at the Human Studies Film Archives and Historical Society of Pennsylvania. He is a specialist in amateur film and regional film production and has lectured and written extensively on home movies and amateur film, including presentations at the Orphan Film Symposium, the Northeast Historic Film Summer Symposium, the University Film and Video Association, and the Association of Moving Image Archivists' annual conferences. He is a past member of the National Film Preservation Board, and is past co-chair of the Association of Moving Image Archivists' Small Gauge and Amateur Film Interest Group and the Regional Audio-Visual Archivists' Interest Group.
Katie Trainor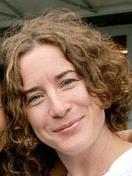 Katie Trainor is a graduate of the L.Jeffrey Selznick School of Film Preservation at the George Eastman House. She has worked for the Museum of Modern Art in the Celeste Bartos Film Preservation Center and before that she worked as the Director of Operations for the Jacob Burns Film Center in Westchester, NY. Her introduction to the archival world was her employment as Archive Manager of the Harvard Film Archive from 1993-2000. In addition to being an archivist and exhibitor, Katie will talk your ear off about the do's and don't's of archival film projection. She is a long standing operator for the Sundance Film Festival and proud veteran of the Telluride Film Festival. Miss Trainor is an active member of AMIA (Association of Moving Image Archivists) having served on the Conference Committee in addition to curating the Annual Archival Screening night at the conference. She is a member of the Small Gauge and Amateur Film Interest Group. Her proudest achievement by far is joining Snowden, Chad, Dwight and Brian as a co-founder of Home Movie Day and the Center For Home Movies.
Andy Uhrich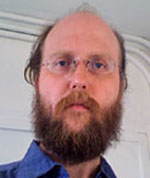 Andy Uhrich is a PhD student in Indiana University's Communication and Culture department where he researches the history of media audiences and amateur film/video production. He has a MA from New York University's Moving Image Archiving and Preservation (NYU-MIAP) program where he studied the conservation the films and slides used by non-theatrical itinerant film lecturers active in the first decade of the twentieth century. As a graduate student at NYU-MIAP he interned at Anthology Film Archives and the New York Botanical Garden's Mertz Library. Prior to attending NYU-MIAP, he worked as an archivist at Chicago Film Archives where he focused on the conservation and public exhibition of small gauge collections that document Chicago's diverse communities, contentious politics, and creative amateur/industrial/artistic filmmakers. While he often credits his interest in film preservation to a love of the film object gained from his decade long experience working as a projectionist, the honest truth is it all goes back to learning how to thread a 16mm projector when he joined the audiovisual club in the second grade.
Molly Wheeler
Molly Wheeler is an Archivist at the Yale University Beinecke Manuscript and Rare Book Library. Prior to working at Yale, she was the Archivist at The Josef and Anni Albers Foundation, where she processed the two artists' papers, sound recordings, and films for nearly four years. While pursuing her MSIS in Archives and Preservation at the University of Texas at Austin, she worked at the Harry Ransom Humanities Research Center where she built an audio preservation lab and established the audio reformatting program. She organizes the Home Movie Day for Connecticut in New Haven and volunteers to preserve local small film collections. She is an active member of the Association for Moving Image Archivists and Society of American Archivists.